About Us / BIO OF LYNN L.  RIORDAN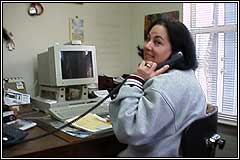 V.P.  Lynn Riordan on phone in office
Lynn
has 10 Years of experience at Bank of America where she started as a teller and worked her way up to Utility Officer. As Utility Officer, she trained for and managed every position in the branch. From there she was promoted to Customer Service Officer. In 1980 she joined Jim Riordan in forming Overnight Engineering, the predecessor to the James F. Riordan Company, Inc. and Riordanco.com, where she has worked for the last 23 years.
In her early days at Overnight Engineering, Lynn ran a milling machine, a lathe and operated sheet metal tools and machinery as well as maintaining the company books and records.  She became adept at using complex inspection tools and equipment and she performed extensive fabrication and inspection services for Atari, Pizza Time Theatres, Qume computer and numerous Silicon Valley startups.  None of her inspected parts were ever rejected by a vendor!  
Her present duties with the company are focused mainly on extensive market research projects and customer service, yet still include accounting, AR, and AP.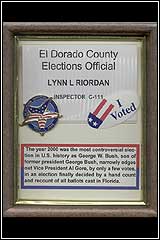 Lynn's year Y2K election
officer's badge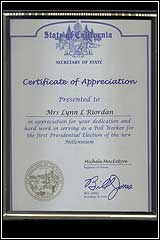 Lynns Certificate of
appreciation from the
Secretary of State's
office for working the
first election in the
new millennium
Community Involvement
Ms.  Riordan's community service includes working as an election precinct volunteer wherein she was subsequently promoted to Elections Official Inspector.  She served in the most famous election of all time, the 2000 Bush/Gore election which was decided by only a few votes after recount.   
In 1988 and 1989 served as vice president of the Northern California Antique Airplane Museum in Morgan Hill CA.   
Hobbies
Lynn enjoys quilting first and foremost and has two rooms devoted to sewing machinery of all types including computer controlled embroidery machines and quilting machines. She has made many of our friends and relatives ornate quilts and comforters and has still found time to donate her quilt squares, embroidered with angels, to a non-profit group called the "Angel Quilt Project." This group provides embroidered blankets to critically ill infants in hospitals. Often, if the child does not make it, these mini-quilts are the only keepsake that the parents have left that touched their child. (learn more about the Angel Quilt Project at
www.treetrunk.com
)
She also enjoys ceramic doll making, carousel horses, motorcycle riding, motor home camping, hiking and flights with husband Jim in their ultra lights and private aircraft.
One of Lynn's porcelain dolls sitting at
his desk

Note the random pattern quilt stitching
done by Lynn's Handi-Quilter machine

African style winning hand quilt

"Scrap web" quilt with
hand made doll above

Lynn in one of her sewing rooms with
embroidery machines

Lynn with village scene quilt in progress. 
Snoopy is checking it out
Prior years' hobbies and activities have included skydiving and freefall, hot air ballooning, Alpine snow skiing, parasailing, air-boating and taking flying lessons in taildragger aircraft.  In 1971, with Jim.  Lynn, made news as the first couple ever to ride the Barstow to Las Vegas desert motorcycle race, riding double, on one motorcycle, passing many solo expert riders along the way. 
Jim and Lynn (in red) preparing to take
off, 1981

Lynn motor home camping in the snow
2002

Lynn's first freefall Pope
Valley, 1976

Jim and Lynn were the first couple to
ever attempt to ride the grueling
Barstow-to-Vegas desert motorcycle
race riding double on one bike. Stress
broke the frame in five places

Jim and Lynn skiing Park City Utah

Lynn Riordan Parasailing
in Florida