BIO OF JAMES F.  RIORDAN
---
resume | community involvement | accomplishments | author
inventions, trademarks & patents | hobbies
---
---
The James F.  Riordan Co.  , Inc.  Cameron Park, CA 1979 to Present
---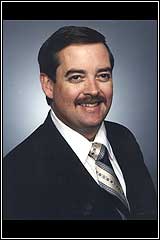 CEO Jim Riordan


Position: PRESIDENT,CEO

Provided management consulting services including:

| | |
| --- | --- |
| • | Evaluation and analysis of new products and technologies.  Mechanical and electronic design reviews, development of new product concepts, preparation of marketing strategies, and support for new product introductions. Turnkey new product introductions. Client/customer list includes 3M, Levi Strauss, BASF, Apple Computer, Uniden, Atari, Hershey Corp, Crane Corp, Olin, Whirlpool, Paladin Corp, N.A.S.A., Harris Corp., and numerous start-ups. |
| | |
| --- | --- |
| • | Product development and marketing Company develops, manufactures, and markets its own proprietary products.  Has developed and marketed office products, tools, computers, various consumer products and technical publications.  Company has in-house prototype lab for plastics, sheet metal, and machine work.  |
| • | Reorganizations, restructuring and cost-reduction programs.  Has reorganized a broad range of companies including auto and truck tire manufacturing plants, electronic solenoid and harness assembly plants, cabinet making plants, sod farms, computer stores and many more, both nationally and internationally. Acted as Court appointed Federal Trustee for selected Chapter 11 reorganizations, and Chapter 7 Liquidations, specialized in federal criminal cases. Acted as interim CEO, Provisional Director and as investigative trouble shooter and fact finder at executive level. |


What the Us Department of Justice, Office of The U.S Trustee said:
"To whom it may concern:
This is to confirm that James Riordan served as a bankruptcy trustee in both Chapter ll (reorganization) and Chapter 7 (liquidation) cases, between 1991 and 1995, in the Sacramento Division of the Eastern District of California. At no time did we ever suspect or detect any misconduct or mishandling of funds or assets during Mr. Riordans' tenure.
In order to become a bankruptcy trustee Mr. Riordan was required to pass a rigorous FBI security clearance, maintain a fidelity bond in excess of 150% of the value of the assets he was responsible for, and subject himself to spot checks and detailed reporting standards. As a bankruptcy trustee Mr. Riordan was held to the highest fiduciary standard, answerable to the United States Department of Justice, the Bankruptcy Court and all the creditors in the case.
As head of the Sacramento office during the entire time Mr. Riordan served as a trustee, I was aware of his work, his cases and his performance. Mr. Riordan was a tireless worker, aggressive and inquisitive. He never backed down because it got too tough or complex, in fact that just made him work harder. If anything Mr. Riordan worked too hard on some cases, putting in far more hours than the statutory compensation cap would permit him to be paid for. Mr. Riordan's reputation for honesty and integrity is unquestioned. He was forthright and completely candid, even if he felt he had made an error in judgment or strategy. I never once had an occasion where I felt that he was anything less than completely honest, or that he worked any way but his hardest. It has been my pleasure to know Mr. Riordan for the past ten years and I hope to continue our association for many more years. If you have any questions, please feel free to contact me at the number listed above."
Antonia G. Darling
Assistant U.S. Trustee
U.S. Department of Justice
 
 
 
---
ATARI INC., Sunnyvale, CA 1976 to 1979
---

Position: MANUFACTURING ENGINEERING MANAGER
Directed a group of mechanical and electronic engineers. Responsibilities included: Budget, conducting new product design reviews, new product introductions, industrial tooling design, fabrication, capital equipment procurement, design & fabrication of assembly aids and fixtures, providing expeditious, reliable, cost effective solutions for manufacturing problems, conducting vendor capability and acquisition viability audits. Also provided troubleshooting both nationally and internationally for company president and vice presidents.
 
 

Special Projects for Atari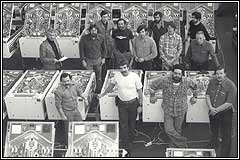 Jim (in white) with team
at NSM in Germany.

Project Scope:
Solve manufacturing problems with Atari's largest customer in Europe. Video cabinets and pinball machines arriving at Lowen Automaten and NSM in Germany, had components with random placement, and in some cases were failing to pass German radio frequency emission standards. Riordan was sent to Germany to investigate the problems, propose the solutions and implement the necessary changes to satisfy the customer.
 
Results:
Within one week in Germany, Riordan was able to identify and document all of the customer's problems, inspect and correct the latest shipments of product and prepare tooling drawings to prevent the problems from reoccurring. Back in the U.S., Riordan worked with his manufacturing engineering team to produce installation templates for all components to assure continued proper placement. All changes were implemented for the next month's shipments. German customer was so happy with next shipment he asked Atari that Riordan be put in charge of handling his multi-million dollar account.
 
Contact reference:
Mr.  Rupert Mosinger, of NSM and Lowen Automaten, Weisbaden, Germany
 
---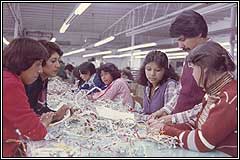 Pinball harness assembly line,
Chihuahua Mexico

Project Scope:
Solve manufacturing problems in new harness and solenoid manufacturing plant in Chihuahua Mexico. Atari had recently begun using a new Mass Termination System developed by AMP Corporation and was experiencing "open" (not properly terminated) connections on pinball and video game harnesses.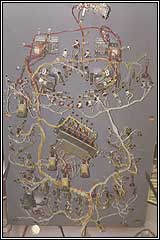 Pinball playfield harness

Riordan was sent to investigate the problems, find the solutions and "fix-them" or close the production down. In addition, his mission included investigating why the plant was unable to supply solenoid coils with consistent winding counts.
 
Results:
Riordan found that the "open" connection problems were due to the design of the insertion head on the AMP mass termination tools. He worked with the AMP engineers to redesign the shape of the head, on the spot. Riordan precision ground a new variation which worked perfectly and which AMP incorporated into their new mass termination tools.
Pinball harness tester looking for
"open connections"

He then set up inspection stations for all assembly line manufacturing cells. Atari's team designed and installed a harness test fixture to find any "open" circuits and production resumed within three days after our team's departure. Riordan found that the coil winding problem was due to poor revolution or turn counters and operators who did not understand how to stop the machines at the proper count. His team devised an electronic counter and motor control which slowed the machines down on the last few turns and an electric brake which stopped the "bobbins" at precisely the right turn-count. Immediate improvement of the coils consistency resulted in a very low reject rate.
 
Contact reference:
Mr.  Noah Anglin, Engineering Manager
 
---

Project Scope:
Solve problems with a pinball game playfield assembly plant in Chicago, IL.  The plant was delivering playfield assemblies which were warped, inconsistently finished, and outside of Atari's dimensional specs. 
 
Results:
After one week at the plant, Riordan reorganized the storage areas and methods to prevent warping, built fixtures to control dimensional variances, changed the glue formulation to cure a problem with plastic inserts falling out and built a specialized coating booth to assure a consistent final finish. Atari experienced a near zero rejection rate from then on.
 
Contact reference:
Mr.  Noah Anglin, Engineering Manager
 
---

Project Scope:
Solve problems with a cabinet assembly plant in Payson, Utah.  The plant was unable to produce cabinets which met Atari's strict squareness tolerances and quality specs. 
 
Results:
After two days at the plant, Riordan was able to develop manufacturing templates, fixtures and inspection tools which solved the problem. He trained the staff in the use of the new devices and Atari never again experienced quality problems from the Payson plant.
 
Contact references:
Mr.  Noah Anglin, Engineering Manager
 
---

At Atari, Riordan started out as an assembly line supervisor and ended up being a Manufacturing Engineering Manager.  As such he worked in different departments over the years with different bosses including vice presidents and the company president. 
 
What the bosses had to say:
"Jim has a broad knowledge of many diverse skills and an extremely inventive turn of mind that has produced many ideas, some of which have already been incorporated into our standard pinball games"
Geoffrey Harrop
Engineering Manager Pinball Division
Atari, Inc

"Jim constantly delivered a professional, and dependable performance.  I recommend Jim to anyone who needs a dependable, hardworking, and intelligent individual who has common sense and follows through."  
Stephen D.  Bristow
Vice President, Engineering
Atari, Inc

"Jim's efforts in support of the Mechanical Engineering Department were outstanding and fully appreciated.  He would be an asset to any company that needed his skills."  
Fred Tarver
Mgr.  Mechanical Engineering Dept. 
Atari, Inc. 

"When given an assignment, Jim has enthusiastically carried it through in great detail.  Jim has never avoided taking on difficult and/or controversial assignments.  I consider that to be a very valuable trait.  Jim should certainly be considered a valuable asset to any company he may choose to join, and I would be glad to have Jim work with me again."  
Noah Anglin
V.P.  , Engineering Manager
Atari Inc, Coin-Op Division
 
 
 
---
F.M.C.  CORP.  San Jose, CA 1973 to 1976
---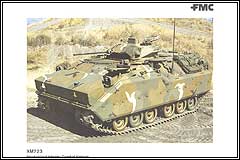 One of Jim's assignments, the FMC
Mechanized Infantry Combat
Vehicle (MICV)

Position: SENIOR INSPECTOR
Quality control of parts and assemblies for armored military tracked vehicles including the Mechanized Infantry Combat Vehicle or MICV and the Bradley Fighting Vehicle. Conducted destructive and non-destructive tests, helped coordinate design changes with engineering and manufacturing groups. Field tested completed vehicles. Also inspected components for modular airborne fire fighting systems built under contract for the U.S. Forest Service.

Note: Riordan worked at FMC Ordnance plant in 1966 as supervisor of a production line using German Wafio nail making machines with custom die boxes modified to produce dart-like "flechettes" for the "Beehive" bombs using 105 and 106mm howitzer shells.
 
What the boss had to say:
"The performance of his duties required the adept use of tapes, scales, micrometers, calipers, gages and the capability to make layouts.  Jim performed his duties with competence and a minimum of supervision along with preparing and maintaining inspection records and reports as required by our divisional inspection procedures."  
Gary G.  Groat
Chief Inspector
FMC Corp. 
 
 
 
---
VIKING SAUNA CO.  San Jose, CA 1968 to 1973
---

Position: PRODUCTION MANAGER
Directed all phases of manufacturing including plant layout, hiring and firing of personnel, capital equipment purchases and inventory control.  Designed and fabricated specialized machinery and tooling to increase production capabilities.  Learned machine design techniques from a true master, Lennard Nylin. 
 
 

Special projects for Viking Sauna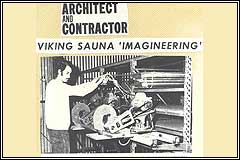 Jim with Pneumatic "gang chop-saws"

Project Scope:
Devise a way to produce more 1x6 inch side panel pieces per hour to speed production of saunas, while keeping the parts accurate. 
 
Results:
Helped design and construct a pneumatically operated gang of chop saws which produced five parts from one length of redwood at the same time.  Production of side panel pieces increased five fold, netting an overall production increase of 20%.  Device was featured in Architect & Contractor magazine. 
 
What the company president had to say:
"It seems hard to believe that the time has passed so quickly and that you have exceeded five years in our employ.  During this period of time you were most fortunate in participating in the largest growth period in Viking Sauna Company's history.  It was during this period of time that you also can look on with pride as many of the innovative items that came into being in the manufacturing area were either those of your own making or the result of the stimulation that you created among your people in the management phase of your work."  
R.H.  Jones
President
Viking Sauna Company
 
 
 

PERSONAL REFERENCES GLADLY PROVIDED


 
---
resume | community involvement | accomplishments | author | inventions, trademarks & patents | hobbies
---